ENHANCE YOUR GALAXY.
the more cats the better. bring a few MOONCATS into your own personal universe with the cutest branded sticker in our orbit.
Customer Reviews
Write a Review
Ask a Question
New home for the moon cat
This moon cat sticker has a wonderful new home on top of my laptop. Stellar design, makes me smile. Thanks for the awesome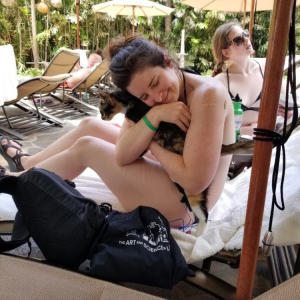 J
09/21/2022
Jennelle

United States
Cute sticker!
Have this on my water bottle. Love it!
09/21/2022
Sheala L.

United States
Loveee
Made a perfect additions to my sticker collection on my water bottle
09/19/2022
Cynthia G.

United States
Cute!
The sticker is a good size and, well, its a cat. You can't go wrong a cute cat sticker.
09/15/2022
Audrey H.

United States
Beautiful and strong finish
So I've been through a few different nail polishes looking for something that was in fun colors and could stand up to my job as a aircraft painter. Well Mooncat has done just that! The primer was easy to apply and dried quickly, the base has great coverage. I found a thin first coat and then a solid second worked best for me but my nails aren't the smoothest. I felt like the top coat is where it really shined. The top coat liked to go on pretty thick and dried quick. Very happy with my purchase and even happier knowing part will help some kitties in the future.